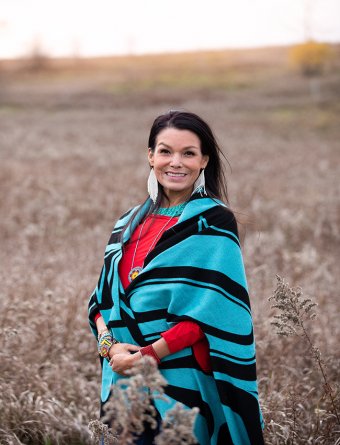 Asha Frost
Asha Frost (she/her) is an Indigenous Medicine Woman and a member of the Chippewas of Nawash First Nation. She is from the Crane Clan, the totem of leadership, and believes in holding space from vision and heart. As an energy healer, homeopath, and mentor, Asha has guided thousands of people through profound and lasting transformation.
Impacted by generational trauma and colonization, Asha has been on a lifelong journey of reclamation. A lupus diagnosis sent her on a path of studying and practicing a multitude of energy Medicine modalities with many guides. She has blended this life experience with her innate gifts and the wisdom of her Ancestors. She loves sharing her Medicine in powerful ways through Ceremonies, teachings, and speaking events. Through this work, she loves seeing people reclaim their roots, find their healing wisdom, and rise into their power.
Asha lives on Anishinaabe, Huron-Wendat, and Haudenosaunee Territory, with her husband and two beautiful children, with whom she co-creates a better world for the seven generations to come.
Audio
Audio Download

List Price

$22.99

HayHouse.com

$11.50

(save 50%)