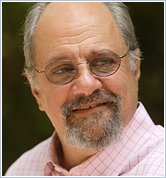 Daniel Gottlieb, Ph.D.
Daniel Gottlieb, Ph.D., is the author of Letters to Sam and Learning from the Heart, which have been published in 15 languages and received worldwide attention. In 2009, in the U.S., he was the recipient of the Books for a Better Life Award in the Motivational Book category for Learning from the Heart. The same year, in Taiwan, he received The Fervent Love of Life Award in recognition of the Chinese-translation version of Letters to Sam.

Gottlieb is also the author of Family Matters, recently reprinted as a trade paperback, and Voices of Conflict; Voices of Healing, a publication of People with Disabilities Press. He hosts an award-winning mental health call-in program, Voices in the Family, and writes weekly blogs on the Websites of The Philadelphia Inquirer and The Christopher and Dana Reeve Foundation.

A practicing family therapist as well as author and talk-show host, Gottlieb lives in Cherry Hill, New Jersey, where he has a private practice in individual and family psychotherapy. In 1979, Gottlieb had a car accident that rendered him quadriplegic. One year after the accident, he resumed his practice. He later served on the advisory board at Wordsworth Academy and The Boys and Girls club of Camden, and from 1996 to 2000 he was on the National Advisory Council at the Center for Mental Health Services.

Gottlieb's radio program Voices in the Family can be heard weekly on the public radio station WHYY-FM 90.9 FM in Philadelphia. He is the recipient of numerous awards for the show, including a national Clarion Award, a Best Local Radio Program Award from the Society of Professional Journalists, a National Mental Health Media Award, and the Philadelphia Society of Clinical Journalists Lifetime Achievement Award. Other honors include the "Excellence in Media Award" from the Association of Marital and Family Therapy and the Pennsylvania Public Broadcasting Award.