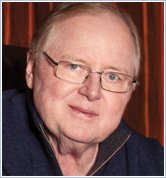 Dave Liniger
Dave Liniger was born and raised in the small town of Marion, Ind. Prior to starting his real estate career, Dave served in the Air Force and Vietnam. He first became interested in real estate after successfully buying and selling properties to supplement his income while stationed in Phoenix, Ariz. After working for both a 100-percent commission company and a traditional brokerage, he co-founded RE/MAX in 1973.

Forty years ago, Dave revolutionized the real estate industry when he created the RE/MAX business model, which combines a maximum commission concept with world-class support services. The name "RE/MAX" was coined from the words "real estate" and "maximums." The model continues to attract experienced, top-producing agents who lead the industry in individual sales and professional education. The RE/MAX Balloon is one of the most recognized corporate images in the world and has become a symbol of the leading real estate network.

In 2011, Dave was named the Inman News "People's Choice" Most Influential Real Estate Leader. In 2010, he was included in Bloomberg BusinessWeek's profiles of the 50 Most Powerful People in Real Estate. Dave has been featured in Entrepreneur, Forbes, Fortune, Inc., Success and other leading publications and media outlets across the globe. He received the Warren Bennis Award for Leadership Excellence from the Global Institute for Leadership Development and has been inducted into the International Franchise Hall of Fame, the Council of Real Estate Brokerage Managers (CRB) Hall of Leaders, the Real Estate Buyer's Agent Council (ABR) Hall of Fame, and has earned the Council of Residential Specialists (CRS) Special Achievement Award.

Dave had a horrific staph infection along his spine in 2012. It was the worst his doctors had ever seen. He slipped into a drug-induced coma for the next four weeks, had organ failure, flat-lined at one point and faced the possibility of permanent paralysis. Weeks of intensive care were followed by months of rehabilitation. The experience took this self-made business icon to the brink of despair. But, supported by family, friends, health care professionals and a lifetime of positive influences, he refused to quit, battling back and building a goal-oriented plan to survive.
eBooks
eBook