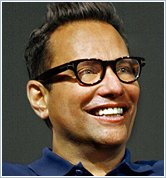 David Coury
Through teaching his revolutionary singing and speech techniques, international voice expert David Coury transforms the impossible and has established himself as the best of the best.

The first time Simon Cowell/Clive Davis discovery Leona Lewis came to David Coury's piano, he was extremely vocal about how he would uncover her "endless possibilities." And as seen on MTV's "Making Menudo," and on NBC's "Nashville Star," the 'extremely vocal' vocal coach can really roll up his sleeves. With legend Johnny Wright, David boldly made a band of 'teenaged' boys in 40 days and nights – a first in TV. After the show wrapped, David joined superstar producers J.R. Rotem, Danja, The Clutch and others for over two months to begin recording the first album. In that time he "in-studio" trained the new Menudo (Carlos, Monti, Emmanuel, Jose, and Chris) to become the strong recording artists they now are while continuing their daily vocal master classes. From Ashley Tisdale to Leona Lewis, Billy Ray Cyrus, Menudo, and "Hanna Montana's" Mitchel Musso to "Access Hollywood's" Billy Bush and Catt Sadler from E!'s "The Daily Ten," it's no mystery why David has earned his sterling reputation as a master voicetechnician, studio vocal producer, musician and communication expert. His full schedule is spent working in every area of voice while continuing to create groundbreaking tools that transcend any one medium.

Spice Girl Geri Halliwell says, "David Coury is a magician and a very loving teacher." Whether transforming "American Idol" cast-offs for an amazed Simon Cowell, teaching Avery Dennison's foreign born scientists how to communicate or prepping attorneys and witnesses for court – to David Coury, it's all in a day's work. Coury's knowledge of the voice, and skill in transforming one, knows no bounds as evidenced in his ABC "Extreme Makeover" of a rapper with a cleft palate which is repeated regularly on the Style Channel. In the first ten minutes of day one's shoot, Coury erased an impediment that had plagued the rapper for 20 years. In Coury's words: "Someday is no day on my calendar...let's get to it NOW."

Now Janice Dickison doesn't lose her voice, Lance Bass has found his and "Ed Hardy," designer Christian Audigier can be understood as can Bravo's "Shear Genius" mentor Rene Fris and "Dancing with the Stars" pros Alec Mazo and Edyta Sliwinska. Kate Flannery, Meredith on NBC's "The Office," has access to all of her voice – singing and speaking, as does "Young Frankenstein's" Roger Bart, "Mad TV's" Michael McDonald and film and Broadway star Carla Gugino. Music veterans Barry Manilow, Patti Labelle, Gene Simmons and "Supreme" Mary Wilson have all taken advice from David Coury.

"Access Hollywood's" resident voice expert DC is also a regular guest on TV Guide Network's "Idol Tonight" and "Idol Wrap" as well as K-Earth's "Gary Bryan in the Morning." Coury first became known to millions of Americans as the sole Voice Expert on ABC's "Extreme Makeover" and FOX's "The Swan." In addition to ABC, TV Guide Network VP Matt Singerman and MTV president Brian Graden, other networks and their execs who continue to rely on David's expertise include: NBC, Bravo, Oxygen, TBS, FOX News Channel, E!, and A&E.

Coury began teaching at just 14-years-old, coaching winning auditions for his high school buddies. Now, in addition to his Los Angeles based private practice which serves the entertainment, medical and legal communities, Coury is the Voice Director for the famed Howard Fine Acting School where he teaches his Singing for Actors™ series. He earned a BA in Communications and Theatre from Rhode Island College. He is the recipient of the Hollywood Musician Institute's "Heal LA Through Music Award" and has several commendations from the late Tom Bradley, Mayor of Los Angeles, Dionne Warwick and Willie Brown.