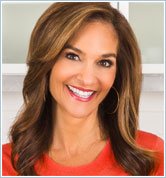 Joy Bauer
Number 1 New York Times best-selling author Joy Bauer is one of the nation's leading health authorities. As the nutrition and health expert for NBC's TODAY show, Joy shares reliable, practical, and straightforward advice that helps millions of Americans eat better and lead healthier, more fulfilling lives.

Joy recently debuted her PBS special, Joy Bauer's Food Remedies, and launched her own food line, Nourish Snacks (nourishsnacks.com), with a mission to provide great-tasting treats without sacrificing health. Joy was inspired to create the line of non-GMO, gluten-free, and dairy-free goodies after fielding thousands of requests for healthy snack ideas.

As a monthly columnist for Woman's Day magazine and the creator of JoyBauer.com, Joy continues to be a leader in developing fresh, cutting-edge, scientifically sound health content and delivering it to millions of people across the globe. She has been featured countless times in prominent publications, such as The New York Times, The Washington Post, People, US Weekly, Cosmo, Vogue, SELF, Glamour, and The Wall Street Journal.

Joy is the nutritionist for the New York City Ballet and has a clientele that includes high-profile professionals, celebrities, fashion models, and Olympic athletes (including Gold-medalists).

She received the 2010 National Media Excellence Award from the Academy of Nutrition and Dietetics and the 2012 American Society of Nutrition Science Media Award.

Learn more at www.JoyBauer.com or at Facebook.com/JoyLBlauer.
Hardcovers
Cookbook

List Price

$25.99

HayHouse.com

$18.19

(save 30%)
eBooks
eBook
Paperbacks
Paperback

List Price

$17.99

HayHouse.com

$9.00

(save 50%)