Norman Shealy, M.D. Ph.D.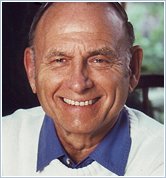 Norman Shealy, M.D. Ph.D.
C. Norman Shealy, M.D., Ph.D. is a neurosurgeon and one of the world's leading experts in stress and pain management. A true innovator in the field, Dr. Shealy holds 10 patents for ground-breaking discoveries, and has published over 300 articles and 25 books.
As one of the first physicians to specialize in this discipline, he founded the Shealy Institute in 1971, a center for therapy and research of chronic pain. The center was the first comprehensive, holistic clinic in the country for the management of depression, migraine, fibromyalgia, and back pain, resulting in numerous pioneering treatments.
Demonstrating the success of a comprehensive, holistic approach to almost all illnesses, this pioneer has helped to bridge the gap between holistic medicine and traditional Western medicine to allow individuals to take responsibility for their own health. Dr. Shealy's free newsletter is available at
www.normshealy.com