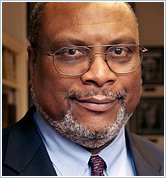 Quintard Taylor, Ph.D.
Quintard Taylor, Ph.D., is the Scott and Dorothy Bullitt Professor of American History at the, University of Washington, Seattle. A preeminent scholar of African American western history, Taylor is the author of several books, including In Search of the Racial Frontier: African Americans in the American West 1529–1990.

As cofounder of the extensive online resource BlackPast.org, Taylor has helped bring African American history to every classroom in the world. Ranked #1 by Google in its category, BlackPast.org features 3,000 pages of content, seven major illustrated time lines, encyclopedia entries; and links to digital archive collections, African American museums, and research centers. Taylor lives in Seattle, Washington.