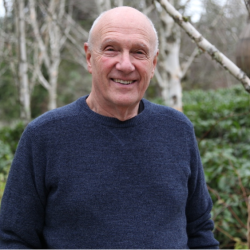 Robert Litman
For more than thirty years, Robert Litman has guided clients and students in the use of movement, breath and sound as a tool for personal growth, restoring healthy breathing rhythms and structural alignment. He founded The Breathable Body in 2003.
He is a Certified Breathing Behavior Analyst from the Graduate School of Behavioral Health Science in Wyoming. He co-developed the Continuum Wellsprings Movement Practitioner Program with Emilie Conrad, the founder of Continuum Movement and co-taught and co-developed additional programs with her for 18 years.
Robert has been a faculty member and head of the Departments of Anatomy and Physiology and Movement Education at the Desert Institute of the Healing Arts Massage School, Tucson, AZ. He teaches the Buteyko Technique of Breathing Retraining, helping people with disorders such as asthma, insomnia, sleep apnea, digestive disorders, fibromyalgia, and specializing in anxiety and panic attacks. He is a founding member of the Buteyko Breathing Educators Association (BBEA) in the US as well as trainer of educators in the Buteyko Technique.
He was a preceptor at the University of Arizona School of Integrative Medicine teaching the Buteyko Technique to visiting doctors for Dr. Andrew Weil for 5 years. Robert has an advanced certification in the Duggan-French Approach to Somatic Pattern Recognition, a structural alignment modality in the lineage of Dr. Ida Rolf. He recently studied with David Treeleavan – Trauma Sensitive Mindfulness
Robert now makes his home on Vashon Island, WA, continuing to offer private sessions and classes in movement and breathing. He regularly leads classes and workshops worldwide. www.thebreathablebody.com and www.wellspringsofcontinuum.com
Audio
Audio Download

List Price

$39.99

HayHouse.com

$20.00

(save 50%)
Spirituality
Audio Download

List Price

$39.99

HayHouse.com

$20.00

(save 50%)
Health
Audio Download

List Price

$39.99

HayHouse.com

$20.00

(save 50%)
Meditations & Affirmations
Audio Download

List Price

$39.99

HayHouse.com

$20.00

(save 50%)