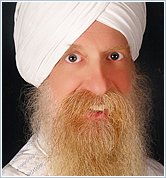 Soram Khalsa, M.D.
Board certified in internal medicine,
Soram Khalsa, M.D.,
is a Clinical Professor of Medicine and past Chairman of the Advisory Committee for the Environmental Medicine Center of Excellence at Southwest College of Naturopathic Medicine in Phoenix, Arizona. He is also a member of the Bureau of Naturopathic Medicine Advisory Council for the State of California and serves as Medical Director for the East-West Medical Research Institute. In 2007, Dr. Khalsa was chosen by his peers as one of the "Best Doctors" in America and serves in this capacity as a consultant for integrative medicine.
Dr. Khalsa is a founding member of the American Holistic Medical Association, a founding member of the American Academy of Medical Acupuncture, and is also a member of the Outside Scientific Advisory Board for the NIH-sponsored Center on Botanical Studies at the David Geffen School of Medicine at the University of California, Los Angeles (UCLA). In his private medical practice, he integrates phytotherapeutics, homeopathy, acupuncture, and environmental medicine with traditional internal medicine. Dr. Khalsa graduated from Yale University and attended Case Western Reserve School of Medicine in Cleveland. After an internship at St. Luke's Hospital in Cleveland, he completed a residency at the Hospital of the Good Samaritan in Los Angeles. He continued his study of complementary medicine in North America, as well as Europe and Asia.
Website:
www.vitamindrevolution.com
eBooks
eBook