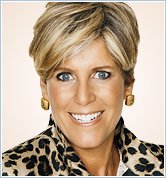 Suze Orman
Suze Orman is a two-time Emmy Award–winning television host, the author of ten consecutive New York Times bestsellers, and one of the top motivational speakers in the world today.
The single most successful fundraiser in the history of PBS, Orman has received an unprecedented eight Gracie Awards, which recognize the nation's best radio, television, and cable programming by, for, and about women. Twice named to the Time 100, ranked among the World's 100 Most Powerful Women by Forbes, and named one of the 100 Most Influential Women in U.S. Finance by Barron's, Orman was the host of The Suze Orman Show on CNBC for thirteen years, a contributing editor for O: The Oprah Magazine for sixteen years, and a contributing editor for The Costco Connection for nineteen years. She is currently the host of the popular Women & Money podcast.
In 2016, Orman was appointed as the official personal-finance educator for the United States Army and Army Reserve. She also serves as a special advocate for the National Domestic Violence Hotline, bringing her message of awareness and empowerment to women who have suffered financial abuse. In recognition of her revolutionary contribution to the way Americans think about personal finance, she has received an honorary Doctor of Humane Letters degree from the University of Illinois and an honorary Doctor of Commercial Science degree from Bentley University. She has also received the National Equality Award from the Human Rights Campaign.
www.suzeorman.com
www.suzeorman.com/podcast
Facebook.com/suzeorman
Twitter: @SuzeOrmanShow
Linkedin.com/in/suzeorman
Kits
Kit

List Price

$199.00

HayHouse.com

$139.30

(save 30%)

Kit

List Price

$90.00

HayHouse.com

$63.00

(save 30%)

List Price

$36.00

HayHouse.com

$25.20

(save 30%)
DVDs
DVD

List Price

$99.99

HayHouse.com

$69.99

(save 30%)
Children's Books
Children's Book

List Price

$14.99

HayHouse.com

$5.25

(save 65%)
eBooks
eBook

eBook
Hardcovers
Hardcover

List Price

$26.99

HayHouse.com

$10.00

(save 63%)
Finance
Hardcover

List Price

$26.99

HayHouse.com

$10.00

(save 63%)

eBook

Audio Download

List Price

$26.99

HayHouse.com

$13.50

(save 50%)

Audio CD

List Price

$26.99

HayHouse.com

$18.89

(save 30%)

List Price

$36.00

HayHouse.com

$25.20

(save 30%)
Audiobooks
Audio Download

List Price

$26.99

HayHouse.com

$13.50

(save 50%)